Siwa Oasis Tour From Cairo / 3 Days / 2 Night To Desert Safari Tours

The Siwa Oasis of Egypt is a unique and fascinating place. Located in the western desert, this oasis has been home to an isolated community for centuries. The area is known for its stunning natural beauty and rich cultural heritage that have attracted visitors from around the world.
The Siwa Oasis was first settled thousands of years ago by nomadic tribes who sought shelter from the harsh conditions in the desert region. These ancient people were able to survive thanks to their ability to cultivate crops with limited resources, such as date palms and olives grown on terraces cut into hillsides or irrigated fields near springs fed by underground aquifers. The people also kept livestock like goats, sheep, camels and donkeys which provided them with food sources as well as transportation across long distances within North Africa's vast deserts during times when water was scarce elsewhere in these regions..
Today's population at Siwa still relies heavily on agriculture but tourism has become increasingly important over recent decades due to its unique attractions including hot springs baths where visitors can relax after a long day exploring nearby ruins or trekking through one of Egypt's many sandy dunes surrounding this beautiful oasis town . Visitors are welcomed warmly here with traditional music playing while they wander through markets full of spices , carpets , jewelry , leather goods made locally . It truly offers an unforgettable experience that will stay etched forever in any traveler's mind .
Siwa appears at first as a sweet and innocent place deep in the desert which has just opened its eyes to the modern world and still let's itself be amazed. Which is not wrong, the asphalted road opened first in 1984. But the history goes deep beyond the earliest civilizations, 
Paleolithic times. In the 1st millennium BCE, Siwa was famous with the ancient Egyptians, thanks to its oracle. The oracle was though to be so true and powerful that generals feared its predictions. Both when the Persian king Cambyses invaded in 525 and with Alexander the Great before his expeditions into Asia in 331 BCE, was the oracle consulted.
During these times, Siwa was a wealthy place, well illustrated by the Gebel al-Mawta and its rich tombs. In early Islamic times, Siwa went into decline and sometime in the 13th century was down as little as 200. Today the population is on the rise, and has since long passed 20,000. Most live in the town Siwa, the rest are spread across over 10 smaller villages.
Siwa Oasis Tour From Cairo / 3 Days / 2 Night To Desert Safari Tours
Day 1 – from cairo to siwa oasis
 Depart early in the morning at 7am to Siwa Oasis be private car pick up service, around 9 hour from Cairo to siwa oasis and you will have lunch in the way to siwa It depends our time. Will take sunset. fatnas island and will camping in siwa desert Sand dune.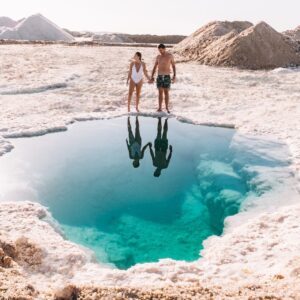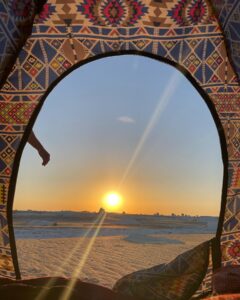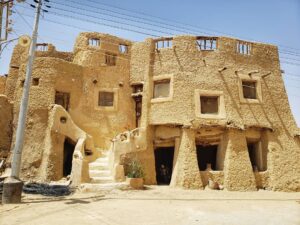 After breakfast, we continue our journey towards Siwa Oasis.  Once we reach the oasis, we visit (Jebel Al-Mutah – which has a large number of tombs carved into the mountain dating – Cleopatra's Pool, swimming pool fed by natural hot springs, – Temple of the Oracle' -Salt Lake- and will finish about 1:30pm 
and you will have another Desert tour safari hot water and cold water and Sand boarding.and take sunset come back to have the dinner and sleep in your hotel 
Day 3 – from siwa oasis to cairo
After breakfast in hotel Go See Shali – Dakrur Mountain, which is known for its hot sand, which is regarded to be a natural Rheumatism remedy. Then transfer back to Cairo by private car. (Approximately 8 hours drive
English Guide Tour 
 sand board
 Fruit, hot and soft drinks
 Mineral water during the tour .  
Jeep car safari tour 
3 meals per day
 Dinner in desert camping 
 pick up in cairo
  drop off in Cairo